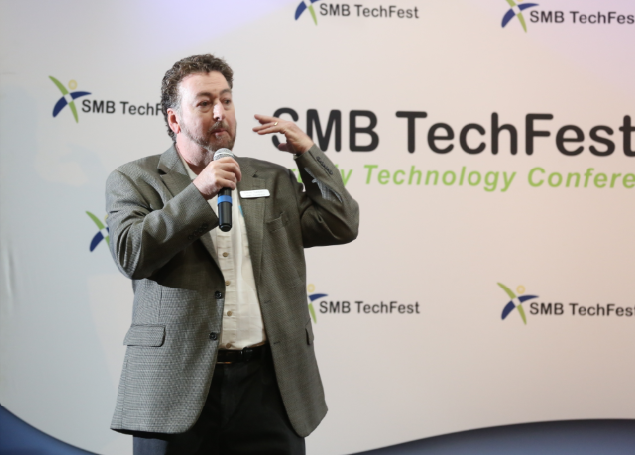 Experienced
Do you need a business technology expert speaker or moderator for your next conference or event. Dave Seibert is sought-after for events with over 30 years experience. He is also an industry influencer and thought leader.

Dave has delivered dozens of dynamic, informative Keynotes, Workshops, Breakout Sessions as a Subject Expert. Dave can also ignite your event as MC or Panel Moderator.

His clients include a breadth of Who's Who of our industry icons including Microsoft, Level Platforms, ConnectWise, ChannelPro Magazine, SMB Summit, SMB Nation, HTG, ProTier, Chamber, Economic Summits, and more.
Speaker Collage

Dave Seibert speaks at events of many sizes. He has presented at Workshops with 20 attendees and Keynoted at a 700 attendee event.
Keynote

Microsoft Store Series

Microsoft Conference

Solution Provider Summit

SBA Business Series

Interview

IoT Panel

SMB 150 Awards

MSP Workshop
Video Speaking Excerpt
Dave is a professional speaker on business and technology. Speaking at over 100 events including conferences, workshops, mastermind groups, professional organizations, chambers, associations, and non-profits. Here are a few speaking excepts.
Ready to connect?

I look forward to us connecting together. If you are ready to explore having a captivating and powerful speaker, schedule a call with me.
Speaking Topics
The following is a sampling of topics Dave has delivered. Each topic is tailored for the business or technical audience to provide a meaningful impact and to share best thought leadership.
The State of the Industry
How to Build a Vast Professional Network
Fire Your Clients or Make Them Revenue Rockstars
IoT is a Security Nightmare & a Great Opportunity
Implementing Cybersecurity into your MSP Model
Avoid LinkedIn Pitfalls and Hacks to go Viral
Optimizing Your Service Delivery Department
Your Company Doesn't Have a Glass Ceiling; You Do.
Best Methods for Impactful Networking at any Event
How to Leverage Conferences for Rapid Learning & Growth
Successfully Transition from Break/Fix to Managed Services
How Technology Can Protect Your Business
Cyber Attacks and Recovery
Understanding IoT and It's Impact On Business
Implementing Social Media for Greater Business Success
What is the Cloud and Why You Need It
Speaking Events
Over 400 Workshops & Events for IT Solution Providers and MSPs
Multiple ChannelPro Forum Conference
Multiple Microsoft Worldwide Partner Conference
Multiple SMB Nation Conference
Multiple SMB TechFest Conference
Multiple Microsoft TS2 Partner Events
Multiple MSP University
Multiple SMB Technology Network – SMBTN
Multiple U.S. SBA – Small Business Administration
Multiple United Way
Multiple Microsoft Store
Multiple Small Business Development Center – SBDC
Multiple Economic Development Summit
Multiple U.S. SCORE
Multiple Chamber of Commerce
Multiple SMB Online Conference
Multiple Constant Contact
Multiple Level Platforms Road Tours
Multiple ConnectWise Road Tours
ChannelPro Technology Podcasts
OC Talk Radio
Ingram Cloud Summit
Executive Coaches of Orange County
100+ Webinars for Vendors, Channel Partners, and Educational
Speaker Artwork